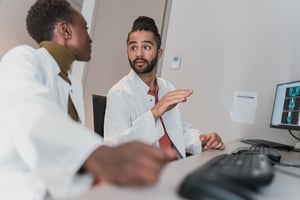 Tailored AI Applications
for Healthcare
At Data Kinetic, we are your trusted AI partner, dedicated to addressing your specific healthcare challenges. We specialize in delivering tailored AI models that enhance patient care, drive cost efficiency, and ultimately deliver measurable improvements to your healthcare operations.
Healthcare AI
A FRESH APPROACH TO
HEALTHCARE AI SOLUTIONS
Operate with Confidence
Outcome-driven Healthcare AI
We believe in the strength of collaboration. Our deep partnerships with healthcare teams ensure seamless innovation, shared goals, and accelerated AI-driven solutions. Together, we improve patient outcomes and drive positive change.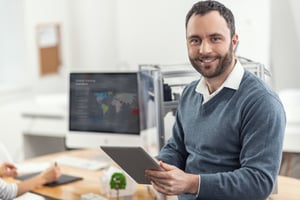 Scale with Precision
Efficiency and Consistency in Healthcare AI Solutions
At Data Kinetic, we foster deep partnerships between our data scientists and healthcare teams. This collaboration is central to our approach, and it accelerates AI-driven innovations. Together, we enhance patient outcomes and drive positive impacts in healthcare.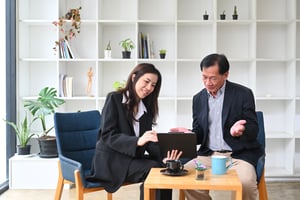 Scale fast and with precision
Scalable AI Solutions for Healthcare
Our healthcare solutions are built on the bedrock of Declarative AI, ensuring streamlined development, consistency, and scalability. With our approach, we guarantee efficiency and provide tailored AI applications that align with the intricate requirements of the healthcare industry. This enables the seamless deployment of robust AI solutions.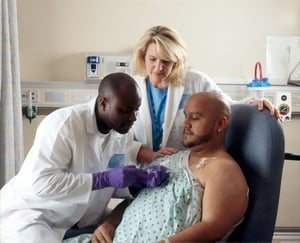 Healthcare Applied AI Catalog
Explore our catalog of industry-focused AI applications. From predictive patient management to fraud detection, our solutions are designed to address the unique challenges of healthcare.
Predict Patient Hospitalization Term, Identify Reductive Factors
Hospitals and insurers can proactively allocate resources, reduce hospitalization rates, and improve patient care by addressing root causes.
Predict Claims Severity from Initial Admission
Insurers can proactively assess claim costs at the outset, enabling more informed resource allocation and precise pricing strategies. This proactive approach results in substantial reductions in overall claim costs while optimizing operations.
Emergency Room Utilization and High Use Patient Prediction
Hospitals gain the capacity to optimize staffing and resource allocation, leading to enhanced patient outcomes and a reduction in overcrowding within their emergency departments. This predictive approach ensures efficient operations while prioritizing patient care and safety.
Predict & Screen Fraud, Abuse & Waste for Medical Claims
Insurers benefit from early detection and resolution of fraudulent claims, reducing financial losses, and improving compliance. By proactively identifying and addressing fraudulent activities, insurers not only protect their financial resources but also uphold trust and credibility in the claims process, ultimately benefiting both the company and policyholders.
Predict Propensity to Have Certain Diseases and Predict Complications
Healthcare providers proactively enhance patient outcomes and achieve cost savings by identifying disease risk and anticipating complications, allowing for timely intervention and the implementation of cost-effective treatment strategies.
Predict Readmissions and Reductive Factors
Hospitals and insurers gain the ability to proactively allocate resources, effectively reduce hospitalization rates, and enhance patient care by addressing root causes and optimizing patient management.
Predict Patient No-shows and Identify Reductive Factors
Healthcare facilities can significantly mitigate revenue losses, optimize patient scheduling, and elevate overall appointment adherence. By proactively identifying and addressing the factors contributing to patient no-shows, facilities improve operational efficiency and ensure patients receive timely care.
Predicting Patient Outcomes Using Admission Data
Hospitals can significantly enhance care planning, patient outcomes, and resource allocation by proactively anticipating potential health trajectories. This approach ensures timely and tailored care, optimizing both patient well-being and resource allocation efficiency.
Improve Patient Engagement and Supportive Factors
Healthcare providers gain the ability to customize interventions, resulting in improved patient engagement and ultimately better health outcomes. This personalized approach empowers patients to take a more active role in their health, contributing to positive outcomes and overall well-being.
Predict Member Disenrollment (Churn)
Insurers can strategically implement retention strategies to effectively reduce customer churn rates and preserve policyholder loyalty. By proactively identifying and addressing factors contributing to member disenrollment, insurers foster long-lasting relationships with policyholders, ensuring mutual trust and sustained financial stability.
Predict Policy Churn for New Customers (First 12 Months)
Insurers can strategically implement retention strategies tailored specifically to new customers within their first 12 months. This approach ensures the establishment of enduring policyholder relationships, fostering trust, and sustaining long-term financial stability for insurers.
Topic/Entity Extraction from Clinical Notes
Healthcare professionals gain the capability to streamline data analysis, research, and decision-making processes, resulting in improved patient care and enhanced research efficiency. This advanced extraction method expedites access to relevant information, ensuring more efficient and effective patient care.
Applied AI Acceleration
SOLUTION EXPLORATION WORKSHOP
Schedule a 90 min solution exploration and discovery workshop. Our team will work with you to explore new solutions, provide expertise from direct industry or other use cases to help accelerate Applied AI development. The program is considered a knowledge sharing program to bring together working teams to facilitate new ideas and outcomes.
There is no commitment required to participate.
Identify specific problems, assessing AI feasibility, and prioritize impactful solutions. Create targeted AI applications roadmap.
Develop, refine, and optimize AI models for selected use cases. Iterate and validate to ensure required performance.
Validation approaches for AI models in real-world settings, assess performance, and fine-tune on the platform of your choice.